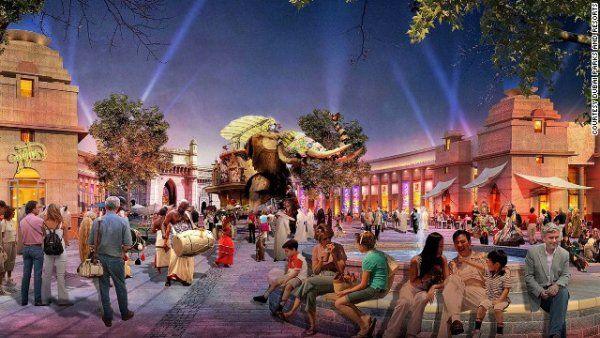 Bollywood Parks Dubai is a popular theme park that is dedicated to Bollywood. Book your ticket and get best deals on entry and rides.The much awaited project of Dubai, UAE, the Bollywood Theme Park, is now open for the general public. It is a part project of Dubai land and has an extensive indoor as well as outdoor area. With a budget exceeding 13.2 billion dollars, this Bollywood based theme park has several attractions and modern technology enabled rides which will surely keep people entertained beyond imagination.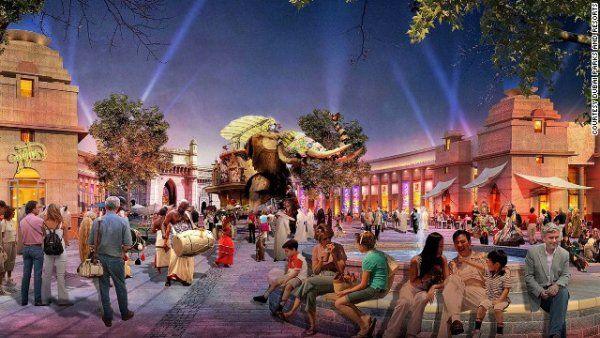 [template id="1702″]The park is located on Palm Jebel Ali road and is the largest Bollywood theme based park in Dubai. The entire area of the park is divided into five separate zones, each amounting to the size of Disneyland. It's that huge! It was inaugurated in October 2016 and is operated by the Spanish company Parques Reunidos. It took about more than 150 million man hours and 14,000 workers to complete this park.
Let's take a sneak peek of this much awaited entertainment park!
With a total of 27 entertainment rides and attractions as well as 15 retail shops and several restaurants, this park imparts the utmost thrilling experience.
From roller coasters, bullet trains, simulated rides, water zones and themed restaurants, this place is packed with adventure and fun for people of all age groups. There are three participating studios, of which DreamWorks takes up majority of the space indoors occupying 45,000 square feet. Other participating companies are Smurf's Village, Lionsgate, Sony Pictures Studios and Studio Central.
Studio Central takes up the entrance and lobby space along with shopping and dining area. Smurf's village houses a playground and a kid's playground with shows and coaster rides. Sony Pictures has the place packed with adventure rides like Hotel Transylvania, The Green Hornet, Zombie land, Cloudy With a Chance of Meatballs river expedition ride and many more. It also has a 4D Underworld movie show.
Step Up is organised by Lionsgate which is a musical show by dancers and performers chosen across the globe. It also houses a simulator aerial tour and the Capitol Bullet Train roller coaster ride.
DreamWorks has a total of 12 rides of the total 27 rides in the park. Shrek's Merry Fairy Tale ride is the longest ride in the park and is based on Shrek's and Fiona's love story projected with a twist. A suspended ride named Dragon Gliders is yet another fascinating and thrilling ride to experience. Camp Viking is the water playground along with a 4D show Kung Fu Panda. The Madagascar Mad Pursuit has a ride based on flywheel technology which goes from zero to 95 kms in seconds. Other Teacup rides, swinging ship ride, carousel and spinners rides are also available. The designing of sound and the interior along with graphics are all done by DreamWorks professional themselves to ensure the most original quality.
Apart from DreamWorks zone, the remaining area is outdoors but the queue spaces and waiting areas are air conditioned for maximum comfort during hot summer months. Apart from the rides there are a total of nine restaurants spread across different zones. Amongst the restaurants, the Candy Apple restaurant is the most attractive of all which replicates the swamp style home of the Smurfs which looks adorable amongst the fairytale setting.
So wait no more! Whether a tourist or a local, you can't wait to miss out on this fascinating place!
Book your tickets or yearly passes at a discount to grab your seat for Bollywood Theme Park! You will surely want to go back again and again to this awesome Bollywood themed park!