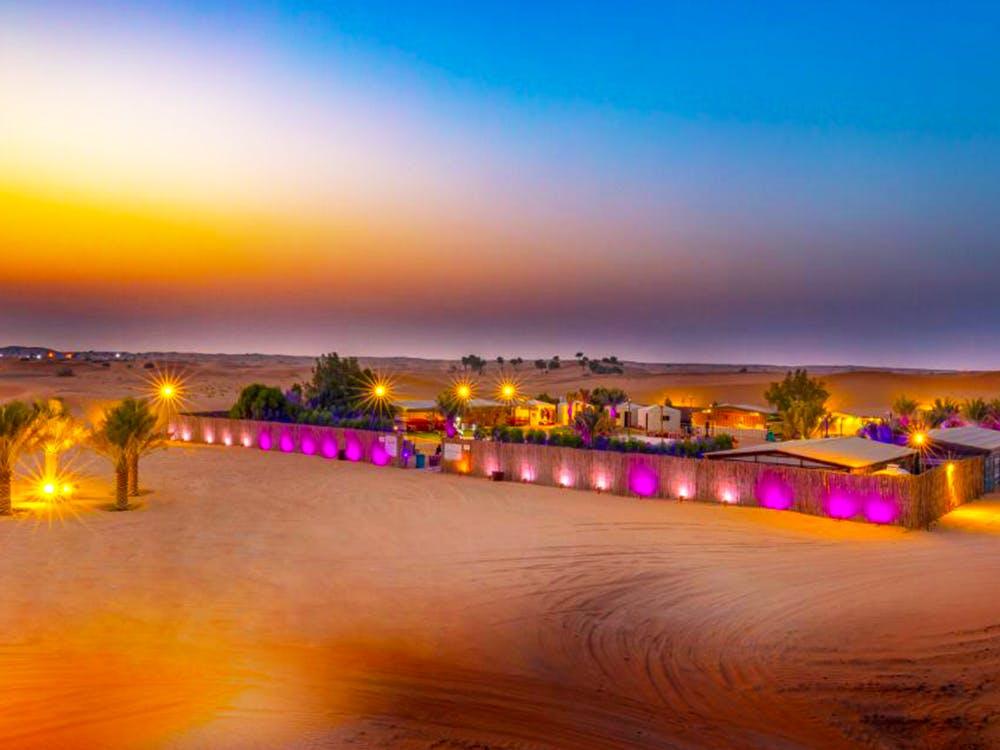 Timing for Tour :  3-30 Pm to 7-30 Am (16 hours)
Discover the overnight desert safari in Dubai to enjoy the spectacular evening starting from dune bashing, camel & horse ride, traditional dinner, Arabian dance, overnight tent and bonfire. Dubai is a pleasant place to visit because of its cultural charm. Dubai is very attractive during the day but at night, its charm increases to a great extent.
Overnight desert safari Dubai highlights:
Pick up from your Hotel / residence
Dune bashing in Arabian Desert
Sunset photoshoot opportunity
Ride the Camel
Hubbly Bubbly Shisha facility
Photo with Arabic dress male/female
Henna painting
Sand boarding / quad biking upon request (Additional charges)
BBQ dinner with a choice of vegetarian and non-vegetarian food
Belly dance and Tanura show by professional artist
Alcohol served for extra charge (Additional charges)
Sleeping bags and tents
Overnight tea / coffee arrangement
Separate toilet facilities for men and women
Morning breakfast, tea and coffee
Drop off at your Hotel / residence
Overnight desert safari dubai deals
Overnight Desert Safari – 325 AED | 89 $ Per Person
Overnight Desert Safari with 20 Min. Quad Bike 150CC – 375 AED | 102 $ Per Person
Overnight Desert Safari with Food on Table – 375 AED | 102 $ Per Person
Overnight Desert Safari with stay in AC Deluxe Room – 499 AED | 135 $ Per Person
Overnight Desert Safari with Unlimited Alcohol – 599 AED | 164 $ Per Person
Inclusions:
Visiting the desert during the sunset will give you an excellent view.
Meals-You can enjoy dinner buffet with soft drinks as well morning breakfast will be served.
Camel riding-You can travel on camelbacks or ride through the sand dunes of the desert.
Dune basing- You can enjoy dune bashing on dune baggy through the sand dunes of the desert.
Quad biking- You can also get a thrilling experience by driving a quad bike through the desert of Dubai till 8.30pm at night.
Overnight camps are also organized in the desert for the tourists.
Entertainments- Belly dancing, henna painting and buffet dinner are also available in the overnight safari.
Sleeping bags as well as blankets are provided to the tourists during overnight stay in the desert camps.
Morning breakfast along with tea and coffee is also given to the tourists the next day.
Thus the overnight safari in the desert of Dubai is a great experience for the tourists.
Overnight Desert Safari Dubai FAQs
Desert safari tours are the most rewarding experiences for any traveler when in Dubai. Camping under the sky, enjoying the amazing hospitality, along with meaningful cultural exchanges- each part of the tour is charming. There are several questions that might come to your mind when you think of booking an overnight desert safari tour.
Some of the most frequently asked questions are:
1.Which is the best time to book desert safaris in Dubai?
September to February is the most recommended time of the year to visit Dubai. In other months, it can get a little too hot for a desert safari. But if you are up for it, you can get a pretty good deal in tourism packages.
2.Should I make the bookings in advance?
Overnight desert safari tours are high in demand, and they sell out quickly. It is best to book the tourism packages at least two months in advance during the season. However, if you are looking for an off-season trip at short notice during the summer months, you might get a spot.
3. Is the overnight desert safari safe for family?
Yes, it is absolutely safe to take your family on an overnight desert safari. There are arrangements for kids and elders alike. However, since the overnight desert safari covers long hours of camel ride, it is a bit risky to take kids under the age of one. Motion sickness can be a problem for them. As for elders above 60, people with back issues should take their physician's advice before going for the safari.
4. What does the usual desert safari package cover?
The overnight desert safaris are exquisite in nature. No wonder they are in high demand for tourists coming from all over the world. Packages include pick up, drop off, camping, exclusive meals, service by excellent staff, along with entertaining events. You can enjoy the Arabic dates and fresh coffee, which are the specialties of the land. The value of the package determines what exactly the desert safari will cover. Get in touch with the coordinator to customize the package according to your needs.
5.What clothing is preferable for overnight desert safaris?
The desert is pretty hot in the daytime, so it is best to wear loose and comfortable clothing. Carrying scarves, hats and sunglasses can come pretty handy during the daytime as they protect you from the direct sunlight. Do not forget to carry lots of sunscreen. Due to the clear sky, it can get very cold in the winter months, especially during the night. Do not forget to carry jackets to protect you from the cold. Keep your camera handy at all times to capture the beauty of the desert at night.
6. Which activities are provided?
Dune bashing is the most exciting activity in a desert safari. You can also take amazing pictures with the falcons on your hand with the sun setting in the background. There are several activities like sand-boarding provided depending on your package deal.