If an adventure is what you're looking for, Dubai is unlikely to disappoint you. Adventure enthusiasts will be pleased to learn that UAE is home to the world's longest zipline now. Dubai already offered the world's longest urban zipline over its Dubai Marina canal, from a height of 44 floors. Ras al Khaimah now houses the World's Longest Zipline certified by none other than Guinness World Records. The Jebel Jais Flight over the Ras al Khaimah mountains is an experience you are unlikely to be able to forget in a hurry.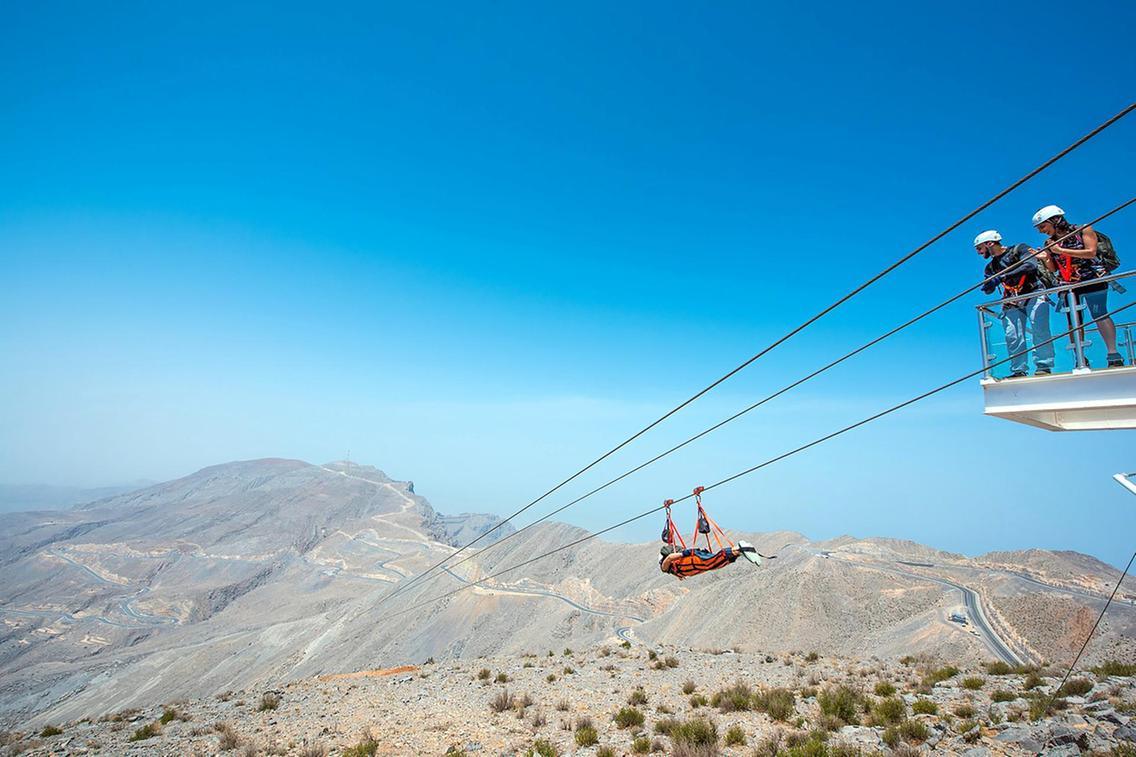 Highlights of the Jebel Jais Flight in Ras Al Khaimah
The Jebel Jais Flight's starting point is the Jebel Jais i.e., the highest altitude available in UAE measuring 1,934 m.
The zipline experience by Jebel Jais allows you to fly at an undaunted speed of 120 kmph.
Total length of the zipline is 2,832 metres.
You can soak in the beauty of the Hajjar Mountains as you zipline through the world's longest zipline, the Jebel Jais Flight.
You are provided with a flight certificate.
You can avail a Go-Pro video in exchange for a fee.
It allows for flight of two people at the same time, in a "Superman" position, so, maximum comfort and visibility are ensured for both.
Grab this offer on zipline Dubai price (Jebel Jais)
Price per person: 2

99 AED | 81 $ Per person
Highlights of the Xline Tour in Dubai
The Xline travels at an average speed of 80 kmph and is inclined at 16 degrees. You can enjoy breathtaking views of the Hajar mountain range, Dubai localities, shiny high rise buildings and the like on your ziplining experience.
Operated and maintained by an extremely qualified and experienced globally certified team.
Further Information
Fewer age restrictions on the Jebel Jais Xline means anyone above the age of 12 and below the age of 65 can participate in the Jebel Jais Flight. You need to weigh between 45-150kgs to participate in this ziplining activity, and you will need to measure at least 120 cm in height. The Xline is open for visitors on all days of the week except Mondays and Tuesdays from 9 am-4.30 pm. Timings are subject to change depending on weather, season and other extraneous circumstances.
The Jebel Jais Zipline Tour offers seven ziplines connected by nine platforms. The cluster of zip lines cover a total distance of 5 km and are connected by the highest air bridge in UAE, which zipliners must navigate to resume their journey. The 15 m long zipline is constructed at the height of 1,250 meter above sea level and approximately 300 meter over the ground.
The new Jebel Jais zipline constructed in February 2018 measures 2.83 km long. It is the size of at least 28 football fields at minimum. What makes it unique is its mountainous setting, which is rare for urban ziplines. You can participate in the RAK Jebel Jais zipline activity as long as you're in good health and meet the required weight and height specifications.
How to Reach and What to Expect
Located at an hour's distance from Dubai, you will be fitted into the ziplining kit on reaching the zipline at Ras al Khaimah and ushered in for a safety briefing at the Zipline Welcome Centre. The top of the launching platform has been designed as a falcon. You are taken here and are asked to use the cables that drop down to a suspended pad, from where you begin your ziplining down the mountain. At the end of your activity, your photo will be taken and tacked up on the Jebel Jais Wall of Fame.