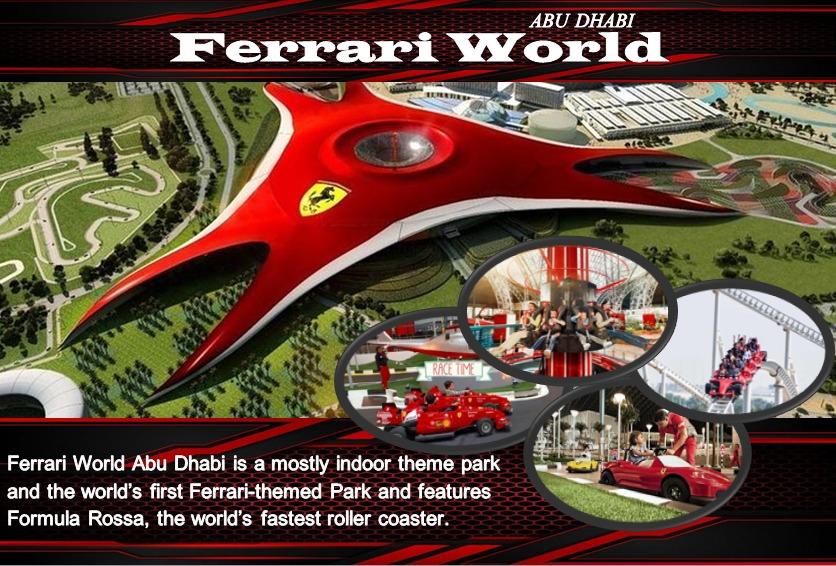 Cost for Tour :  USD $ 110 Per Adult & USD $ 95 Per Child
Ferrari world is one of the most amazing manmade gifts to UAE. You tour to Dubai would be incomplete if you do not get a chance to visit Ferrari world. This destination is considered to be a mind blowing destination of Dubai that aim to excite your adrenaline hormone as soon as the rides take off. During this tour, you would be offered the opportunity to enjoy the ride on world fastest roller coaster that will simply enhance your anxiety.
Timing for Tour :  10-00 Am to 7-00 Pm (9 hours)
It is the world's first Ferrari themed amusement park and is a great tourist attraction. It is also the largest indoor park of the world. It is located on Yas Island of Abu Dhabi. Abu Dhabi Ferrari World Park is an amazing place for people of all ages because of its exciting and thrilling rides as well as other attractions.
Description
Ferrari world is a wonderful destination of Abu Dhabi located in the Yas Island. This is an amusement park that is considered to be one of the largest indoor theme parks across the world. One of the most wonderful roller coasters is located here which is acknowledged as Formula Rossa amongst the riders. This park has been brought into existence by Aldar properties and managed by Farah Leisure Park Management LLC and even by Profun Management Group Inc. The first day of the park was official opened for the tourist on 4th day of November month in the year 2010. The entire park has been constructed within a space of 86,000 square metres. Another amazing roller coaster that you can enjoy here is Fiorano GT challenge that was introduced dueling by Maurer Shone. This is a roller coaster of R-caster Prototype. Beside this, you are sure to experience thrill and anxiety when you are on the specific ride known as Scuderia Challenge. I m sure that you are going to pace up your life here with the magic of speed that you are going to experience with other rides available over here such as Junior GT, Junior Grand Prix, Junior Training Camp, etc.
Salient features of Abu Dhabi Ferrari World Park-
It has more than 20 rides which will give you an idea of the Ferrari story.
Shopping places such as the largest Ferrari store in world as well as a Ferrari boutique and Italian restaurants are also a part of this world park.
Formula Rossa- It also has the world's fastest roller coaster which reaches a speed of 240km/hour (top speed).
Galleria Ferrari- The largest Ferrari gallery of the world named Galleria Ferrari where various cars are displayed is also a part of Abu Dhabi Ferrari World Park.
Speed of magic- A 4-D adventure show named Speed of Magic also attracts many tourists to this Abu Dhabi Ferrari World Park.
Highlights:
You are offered the option to enjoy this ride on all the 7 days of the week.
To enjoy the roller coaster ride, you need to arrive here by 11am and even continue your entertainment till 8pm everyday of your visit.
You are even provided with the option of online booking to ease out your task.
Your pulse beat would get enhanced when you are on the famous roller coaster that is always appreciated for its thrilling experience.
Ferrari world has claimed special position across the world as a wonderful amusement park with largest indoor theme.
You can blast into the world of thrill with the fastest roller coaster ever on the planet i.e. Formula Rossa that has the pick-up of 240km/hr.
Timings- It is open every day from 11am-8pm.
Thus when you visit Abu Dhabi you should find out some time to visit this amazing Ferrari themed amusement park.
Try Us Once:
Need to say less about our service that is whole heartedly dedicated to our customers who just desire to enjoy their tour. Therefore, the only thing that you need to do is to call us and book your package if you desires to enjoy your trip to Dubai with full on thrill, adventure, etc.