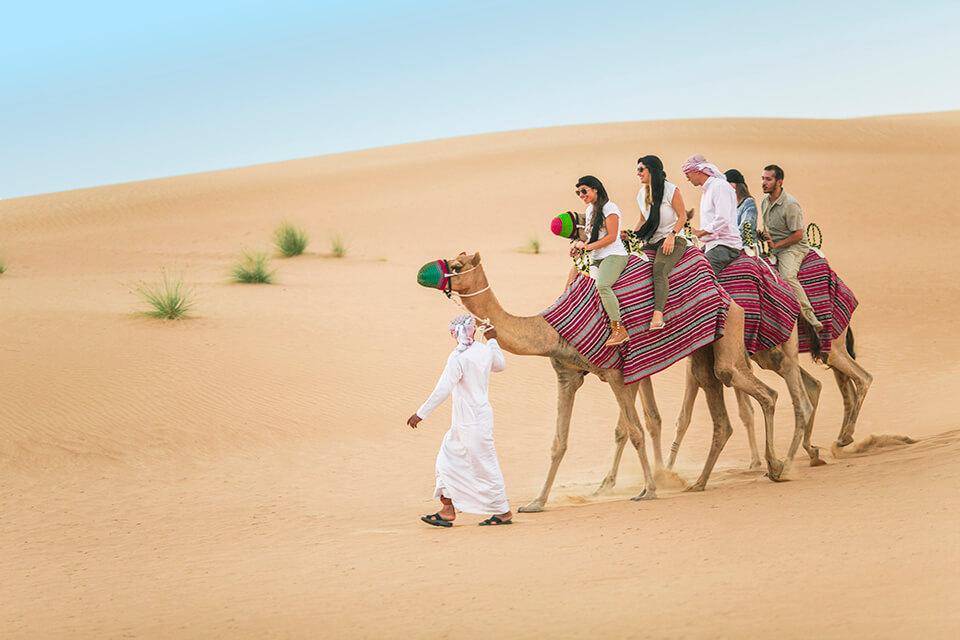 Cost for Tour :  USD $ 68  Per Adult & USD $ 48 Per Child
Timing for Tour :  9-00 Am to 12-30 Pm (3 & half hours)
You go places around the world and try to get the best experiences you can so that it remains in your heart for the rest of your life. Whenever that smell passes your way, it reminds you of that same place in the same manner, no matter where you are.
In Dubai, Camel ride is one such experience you would never like to forget, or rather you would never forget. While you ride on the back of this ship that sails in the desert, you get the best view of the sand dunes that touches the horizon.
When to go for the ride
The scorching heat of the Arabian Desert does not allow you to ride on the sands during the daytime; however, the rides are available early in the morning for early-risers and those who can't leave their bed until late, can enjoy the ride in the evening.
People may not know that ride a camel for a longer period of time leaves you seasick, that is the reason the tour lasts for a little more than 30 minutes which is enough time to enjoy the scenery and dwell in the nature.  This Camel Ride will provide you a sense of safety while you enjoy the nature and one of the most beautiful sunrise and sunset of the desert.
Once you are at the desert, the camels will be waiting to take you on a ride. You just need to trust them and they will give you the best services.
Going to Dubai and coming back without a camel ride, is something that one would never do. However, besides camel riding you can also go for an adventurous experience of driving on a Landcruiser through the sand dunes.
The Camel Ride Tours
Even if you visit Dubai hundred times, you will still feel like coming back. You get the best feelings of this place as you travel through the city. It is even made easier with so many tours services that are available. The different tours give you different deals. The best part of these tours is that they can be booked online. This makes it easier for someone who visits the place for the first time. There are different price ranges for different tours and they even offer discounts if booked earlier. They are not only available for booking hotels and guiding you through the restaurants, but you can even book them for the adventurous rides like camel trekking.