Mall of emirates unique attraction is ski Dubai. Man made ice ski inside mall is worth experiencing. This Trip is tailor-made, as you can spend time inside ski Dubai as per your wish. Entry tickets and one way transfer is provided by us. Ski Dubai tour doesn't require guide services.
Skiing adventure in middle of desert is something unimaginable. Now don't wait for Swiss Trip, experience glimpse of western world skiing in Dubai. Concept is different yet exciting for all age groups. Kids specially enjoy ski Dubai due to rides facility. Isn't it fun to play in ice with your family and friends?
After ski Dubai visit you can enjoy other fun things too inside mall of emirates. As the name suggest its truly best mall among all seven emirates. Discounted deal, tasty food, play area for kids, multiplex and many other things to offer.
Ski Dubai tickets
Sale!
Snow park Dubai
AED 185.00 – AED 210.00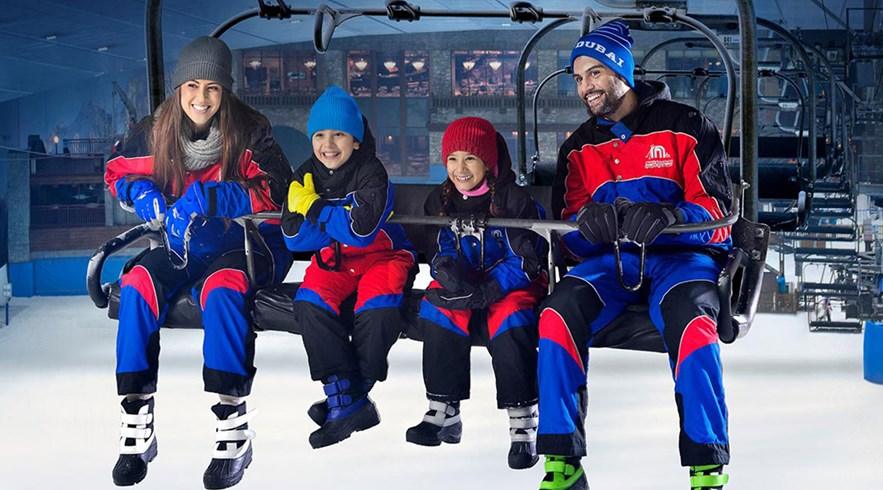 What to Expect
Take out our basic Snow Park Package and enjoy all the main activities and attractions to be found in this spectacular winter wonderland.
What Is Included?
One-time access to the Snow Park
Unlimited access to rides; Bobsled, Tubing Run, Snow Bumpers, Climbing Wall, Snow Plough Playground and Ice cave.
 One Zorb Ball (Giant Ball) Ride.
What We Provide?
Standard jacket and trousers in multiple sizes (S to 4XL)
Snow boots
Disposable pair of socks
Helmets (Children under 13 years of age must wear helmets at all times)
Why Book With us:
Lowest Price guarantee
Online booking
Zero Booking Fees
Secure Online Transaction
Customer Support always
How it Works:
Select your package/tour online
Pay and Book
Get instant receipt by email.
Cost for Tour :  USD $ 55  Per Adult & USD $ 50  Per Child
Timing for Tour :  10 Am to 11 Pm (Daily)
Dubai mall ski
Dubai is an ultimate holiday destination with so many memorable places to visit. People visit Dubai from around the globe and enjoy their time by indulging in all kinds of activities that are available. From great infrastructure to cleanliness, it gives you everything that you ask from a place to spend holidays in. Whether it is sightseeing or a good stay at any hotel, Dubai offers premium choices to its guests. There are a number of different resorts and sites where a person can spend quality time. One of the best places to visit in Dubai is Ski Dubai, which has gained popularity over the last few years.
Snow in the Desert
Ski Dubai is a resort that is spread over an area of 22,500 square meters. The place has a controlled temperature, which stays from -1 degree to 2 degrees Celsius around the year. It has all kinds of skiing and snow-related activities which people of any age can enjoy. From kids to seniors, people of all ages enjoy this resort very much. If you are in Dubai, there is no way you can miss this fun and exciting place where you can have a memorable time. The place is opened on all days of the week, although the timing varies. Timings of opening and closing of the resort are:
Sunday – Wednesday: 10:00 am – 10:00 pm
Thursday: 10:00 am to 12:00 am
Friday- Saturday: 9:00 am – 12:00 am
Activities to Indulge in
In this huge resort, there are so many activities that a day wouldn't be enough to indulge in them all. The place offers a variety of slope activities: from skiing of various types to rides and even snowboarding. They even have real penguins at the place, which you can encounter. For the penguin encounter, you would either need a separate ticket or would have to buy the entire package. There are many packages available for entry at Ski Dubai. The packages available at Ski Dubai are categorized into a list such as:
Slope
Snow Park
Snow Penguins
Summer Packages
Christmas
All these packages are based on the different activities and the duration of your stay at the resort. Apart from that, they also offer the iFLY experience, which is an indoor skydiving activity. You can buy individual tickets as well as tickets for a bunch of people. Many schools also organize trips to this place as it is famous among kids.
The Perfect Experience
Many people suggest a duration of around 3 hours as the perfect time to spend in this resort. But that timing is not based on any age group, and different age groups will have different approaches for this place. If you are in the age group of 16 to 40 and are healthy, then you can spend an entire day here doing all kinds of activities. Skiing and snowboarding may take a lot of energy, after which a person can relax in one of many areas of the resort. You can also have a good lunch or dinner at the place as there are some good food courts inside.