While Dubai is a dream destination for many as a place of work, it also enjoys ample popularity when it comes to visitors. There is no doubt that Dubai has grown by leaps and bounds and there are a thousand things to enjoy and appreciate. Whether you look at the manmade miracles in the form of architecture and engineering or natural scenic beauties, Dubai has everything to offer. So, there is no doubt that hundreds of people are talking about it and want to experience a part of it. When looking for a holiday experience in Dubai, it is best to select a package that is all inclusive, just to make sure that you do not miss out on anything that is worth seeing.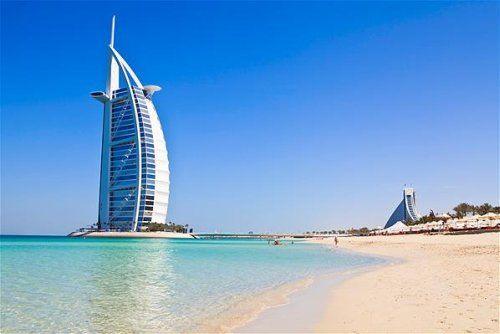 All Inclusive Hotels Packages for Dubai
There are several hotels in and around Dubai that offer an all inclusive deal to people who wish to relax while on their holiday. Make sure to book one of these places if you want a stress free experience. And if you thought that the tag 'all inclusive' stands only for food and airport transfers, then you are in for a surprise. The hotels and resorts here provide much more. You can enjoy a camel ride in the deserts or go on a boating trip, or have a personalised picnic on the beaches. There are several sports that you can indulge in, including kayaking, windsurfing and beach volleyball. The dining experience is also something one can cherish. There are several resorts which give you a feeling of being on an island, and you can enjoy the best of cuisines sitting by water bodies. Moreover, you can also get packages which include sightseeing, either in groups or exclusively for you and your family. The Armani Hotel, Le Meridian Al Aqah Beach Resort, Hilton Dubai Jumeirah Residences, Desert Palm and Al Maha Desert Resort and Spa are some of the leading places where you can stay.
All Inclusive Cheap Dubai Travel Packages
There are so many facets of Dubai, that you are wont to miss some if you do not plan well in advance. For an all inclusive package make sure that you include a visit to the Burj Khalifa, an astounding architectural miracle. The snow park in midst of desert, a magic garden with exotic flowers, and the desert safari are also must haves in the package. Another thing that is worth including is a shopping trip to the local markets, souqs, which offer all kinds of local goods and handicrafts. There are different markets named gold souq, spice souq and textile souq. These authentic Arabian markets will lure anyone, but make sure to bargain well.
To quote Bob Gogel, "Dubai is an unpolished gem polishing itself very quickly. You could look at it as a CD compilation – the best of London, Sydney, Miami, and Las Vegas". So, it is a must to visit Dubai to experience the best of so many destinations at one place and be awed by the glitter of this shining diamond.
Best Dubai All inclusive resorts List:
Lapita, Dubai Parks and Resorts (Entry tickets to theme park)
Bab Al Shams Desert Resort & Spa (Bed and Breakfast basis)
Nikki Beach Resort & Spa Dubai (Bed and Breakfast basis)
Le Royal Meridien Beach Resort & Spa (Half Board basis)
Anantara The Palm Dubai Resort (Full Board basis)
Al Maha, a Luxury Collection Desert Resort & Spa, Dubai (as per availability)
The St. Regis Dubai Al Habtoor Polo Resort & Club (Full board or Half board basis)