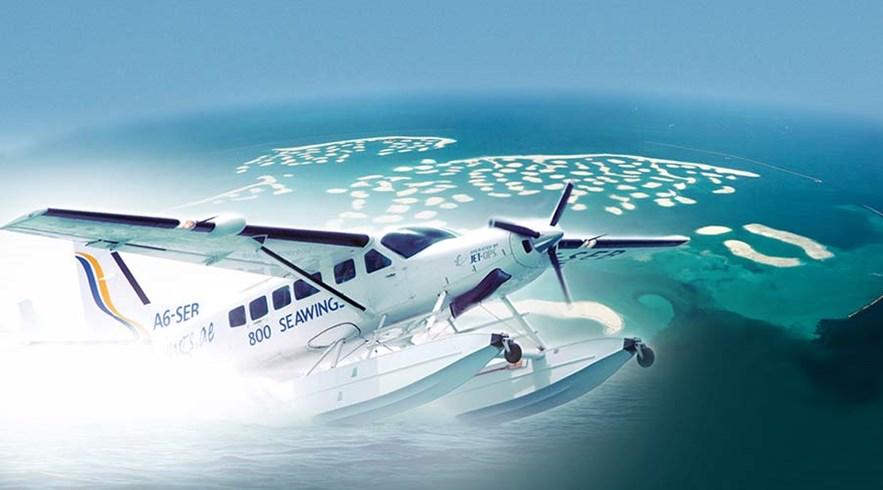 Seaplane Tour Dubai Highlights:
Opportunity to view the glory of wonderful architectures that have scored their position all across the world.
Experience the thrill of water landing and water take off.
This tour serve as a combo of wonderful landmarks available all across UAE that helps in the enjoyment of Seaplane travel.
Offers a pristine view of the water Dubai from the ascending skyline tour.
Option to opt for activities such as golf, horse riding, archery and shooting.
Your journey may last from 20 minute to 40 minutes around about, as per the package you avail.
Grab this offer on Seaplane Tour Dubai
Sea Plane Adventure Tour 20 Min Price
Price per person: 

899 AED | 245 $ Per person

Approx. Reporting Time: 10:00 AM
Sea Plane Silver Tour 40 Min Price
Price per person: 

1460 AED | 400 $ Per person

Approx. Reporting Time: 10:00 AM
Ras Al Khaimah snapshot 20 Min
Price per person: 

525 AED | 144 $ Per person (cheapest rate in Dubai)

Approx. Reporting Time: As per availability
Check our latest deals on Seaplane Tour Dubai, UAE and grab up-to 31% off on tickets. To book your Seawings ride, call us or drop an email.
Sea wings are one of the sea plane operators in UAE. Sea wings tour or sea plane tours is an amazing tour. It is an amazing and unique aerial sightseeing of Dubai. The view of Dubai in this sea plane tour is also known as bird eye view tour. You can see the top most point of the world's tallest building – Burj Khalifa – one of the manmade wonders which is not even visible from the ground level. This could be one of the best things in your trip to Dubai.
Timing for Tour :  On Request (20 minutes to 40 Minutes)
Book your Dubai Seaplane that start as low as 525 AED. Our offers beat the competition for Seawings Seaplane Tours. Dubai is known as the wonderful landmark like Seaplane Tour where every achievement induce in you excitement. This city of superlative offers the panoramic view of the spectacular landmark that makes this destination the fascinating emirate. Seaplane tour of the city help you capitulated special moment of the Nation with the Abu Dhabi pearl that is considered to be a awe-inspiring aerial excursion tour all across Abu Dhabi. It's the opportunity to experience the exciting over look of the water take off and view the adrenaline rushing emirate's landmark that makes the city simply fascinating.
Seaplane Tour  Description
You are sure to see Dubai in a different manner that you would have never imagined before… A seaplane excursion has no other substitute in offering you delightful experience. This is considered to be one of the exciting experiences, when you are once at Dubai. Beside this, it aims to offer exciting experience to score more point to let Dubai turn out the world number 1 destination in term of exciting places. You are sure to enjoy the truly wonderful seaplane ride. This is a majestic journey all across Dubai served via its dramatic and ever changing costal skylines. The tours designed by us are simply amazing and superlative that aims to provide exceptional view of panoramic Dubai's exceptional architectural sights. You are sure to experience extreme pleasure when you pass by Burj Khalifa well known as world's tallest building and Burj Al Arab acknowledged as world's famous 7 stars hotel and Atlantis hotel known for its magnificent beauty all across the world. Whereas, in other packages, you will be provided the assistance to view Dubai's coastal region and heritages which would start from the Dubai marina and passed on to The Palm Jumeriah and followed to other specific architectural achievements such as Burj Al Arab, Dubai Creek, The World' islands, etc.
Time to Enjoy the Exclusive Trips:
We assure to you to have a safe and wonderful experience with the Seaplane tour that make it one of the exciting excursion in the landmark of superlatives. We promise to offer you this package at an affordable price along with excellent customer satisfactory service.
Book your tour pack
Book your sea plan tour now with us to have a trip full of fun and excitement. This sea wings tour is a once in a life time kind of tour. You will be astonished to see the picturesque Dubai Skyline from the window of your plane. Do not waste your time anymore; just book your trip without any delay.
Sea wings tour should definitely be part of your trip in Dubai just because you should not miss the most excited trip of Dubai city. We provide you a dramatic and magical journey with the sea plane tour packages.
Notes:
Infants will be free of charge for all flights.
Supplementary transfers: AED 75 +5% VAT = AED 78.75 per pax per way within Emirates.
Supplementary transfers: AED 150 +5% VAT = AED 157.50 per pax per way within inter Emirates.