One of the nicest places to explore as a traveler is Dubai. Here, the large volume of sights and activities to do beats perhaps the greatest of the globe's cities. It has plenty for everybody, be it the beautiful structures or the luxurious shopping malls, food courts, and fancy hotels. It also has a spectacular pier and creeks that flow via the area providing the sights with a marvelous background.
Wonder bus Dubai ticket prices
Sale!
Wonder Bus Ticket for Dubai
AED 125.00 – AED 150.00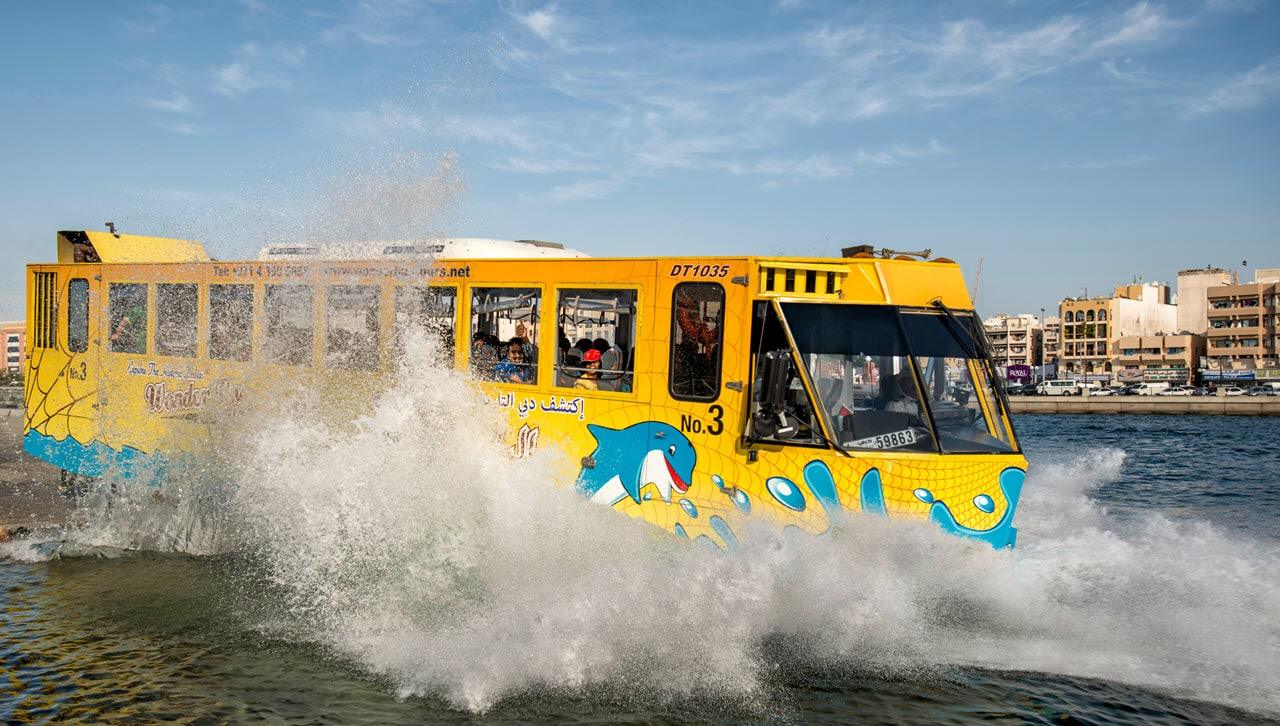 Why Book With us:
Lowest Price guarantee
Online booking
Zero Booking Fees
Secure Online Transaction
Customer Support always
How it Works:
Select your package/tour online
Pay and Book
Get instant receipt by email.
What is the Wonder Bus?
As visitors, walking around these sights might get a little complicated occasionally. What's the easiest way to try out several tourist destinations without straining oneself? A trip by bus will be great, would it not? As for a bus which transforms itself into a cruise and then again into a bus? Those are the popular Wonder Bus tours of Dubai. Hop on a bus to witness it turn into a submarine and swim across the Dubai Creek. While you discover Dubai in the easiest way possible, travel by the landmarks on water and road.
Among the most interesting means of discovering Dubai is indeed the Wonder Bus. Before stressing about switching transportation and working your path to the sights, it offers you an opportunity to see some of Dubai's best landmarks. It goes via the historical sites of Dubai while giving visitors a personal tour during the very same period. The best thing about this trip is the shift first from the roadway to the waters of the creek. This is an unforgettable and thrilling way to see a street vehicle travel effortlessly on the waters.
Amenities on offer:
With amenities like centralized air-conditioning, the Wonder Bus also has a giant TV and interior toilets. By each person, it is very well fitted with life vests. The local guides also offer drinks and snacks on the way to the insightful tour, which can be considered as a bonus. The complete thrill of a bus upon the water, as well as the guided tour in-depth, renders this tour an unforgettable feeling.
Attractions covered, Timings and Cost:
The On-Road tour showcases the following attractions: Jumeirah Mosque, Al Fahidi Fort, Dubai Museum, Etihad Museum, Al Fahidi District, and Abra's Station. After refreshments, it continues at Old Souq Bur Dubai, Union House, and finally the Jumeirah Mosque once again, where the tour concludes.
The Dubai Creek water tour covers Shaikh Saeed House, Heritage Village, Abra (Crossing Boats), Diving Village, Marsa Alseef, Ruler Court. From there, it continues to the Wooden Commercial Boats, Dubai Municipality Building, the Spice Market, the Gold Souq, and finally ends at the Al Ahmadiya School.
The Wonder Bus tour begins and concludes only at the Dubai Mercato. The 1st feature is the Mosque of Jumeirah, from which location the tour begins.
The local guides speak English and Arabic, while one tour lasts for about ninety minutes. The staff is excellent, and this tour would appeal to people of all age groups.
Every tour starts at 3:45 PM sharp on each day (including weekends). This tour runs all week long. Fares are inclusive of the bus and guided tour charges. The ticket expenses also include life jackets, in case of any emergency. The average cost is around AED 197 ($54). However, a company called Jashan tourism provides tickets for the Wonder Bus tour at a discounted rate of just AED 121 ($33).
Wonder bus tour Dubai
You must have been mesmerized by a vehicle hurrying down the roads, which suddenly glides into the water and becomes a boat, happily splashing its way through the calm waves. Hold on! It's not just in the movies. You can find yourself in that vehicle called the Wonder Bus in Dubai, UAE! Yes you heard it right!
Wonder Bus is a creation of the US, but has been brought into the Middle East country for a taste of thrill, uniqueness and an ultra-modern facility which Dubai always thrives to achieve. This yellow colored bus is one of a kind with all modern facilities like air conditioning, washroom, DVD player, television and a sound system. The best part is that it travels both on land and on water! The bus has a capacity of 44 people with comfortable seating arrangements. Tour guides speak in English, German and Arabic language while the bus is one the move.

Major attractions of Wonder Bus
Wonderbus takes its passengers through the city of Dubai, UAE. Sight-seeing attractions on land and through water include:
Heritage Village
Sheik Khalifa and Rashid Road
Dubai Municipality
Mina Road
Twin Tower
Spice and Gold Souk
Maktoum Bridge
Dubai Court
Seef Road
Shindagha creek.
Tour details: Burjuman is the pick-up and drop point and is one of the most well-connected and prominent points which can be easily reached from any part of the city. The total tour duration is about 90 minutes. It operates through all weekdays, excluding public holidays and weekends Friday and Saturday. Timings are between 9 am- 9 pm.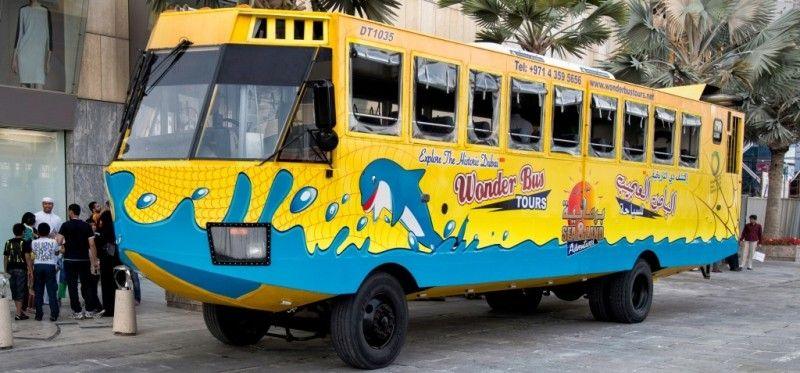 Important notes: The tour is guided throughout the year and it is advisable to wear cottons during the summers and light woollens during the winter months between December-February. Proper sun shades and sunscreens should be carried when in the sun. Photography of Arabic women, Heritage and Protected areas as well as public display of emotion are strictly prohibited and against the rules of the emirate. Alcohol and entertainment are not provided on Arabic holidays. Food and drinks are only provided on pre-booking with extra money. A passport or ID is a mandatory which is to be carried while on tour and will not be allowed otherwise.
Cancellation policy:
There will be no cancellation charges if the trip is modified or cancelled 48 hours before the stipulated date. If done within 24-48 hours, 50% will be charged and within 24 hours, 100% charges will be applicable for cancellation. Trips are generally rescheduled if there is a delay due to unavoidable circumstances like, car break-down, bad traffic or weather conditions. Refund is generally done within seven working days.
It is best advisable to go through the terms and conditions as well as list of itinerary the tour in order to enjoy to its fullest. It is a treat to experience an unforgettable journey through the city of Dubai and unfold its various amazing stories.