Here is the Taj Mahal of Dubai details that is estimated to cost around $1 Billion dollars. It is spread in 200,000 square meters area, find its wiki, venue and address details. It is the right time to feel the glorious past of mogul India. Here in Dubai itself… Now the time of elephants, horses, kings and counselors are going to be available in the heart of Dubai with the passionate creation of the new project known as Taj Arabia. The Taj Arabia is the replica of the Taj Mahal that is synonym of token of love in Indian history. This is a themed project that is yet waiting for development which shall bring into existence the golden era of Indian history.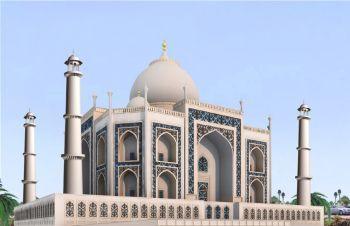 Venue:
This is a wonderful themed project that is considered to be a perfect wedding destination in future. This project has been planned to be developed within a space of approximately 200,000 square meters. This is a multi-dimensional project which comprises of two free holding residential building that is boasted with total of 264 units. There are near about 2 or 3 bedroom apartments  and two mixed used use buildings which is used to serve as commercial offices and residences which stands to be around 129 and 72 units respectively. In total, if we consider then we are going to discover that total two building offers 325 service apartments. This is a mirror image of Taj Mahal in the form of 20 storey glass building. The 300+ room hospitality is of international standard in term of facilities and superlative service. This unique construction is even going to provide you the best gourmet experience under one roof. The additional beauty of this project is lush green environment and wonderful water fountain and cascade stream that serve as a bygone era of splendor.
Budget:
If we are talking about the budget of this project then you need to know that this is one of the most ambitious projects that will bring about the revolution in the world of real estate business. This is estimated to cost near about US $1 billion to incorporate the entire themed project in one place. Taj Arabia is a sort of themed project which is has the mixed flavor of luxury and is considered to become a royal development as well as wedding destination shaped in the form of legendry Taj Mahal.
Mastermind Behind Its Concept:
Link Global has wished to bring in front of you the replica of Taj Mahal named as Taj Arabia in front of the world. The universal symbol of love can now be visible in Dubai. Link global is the mastermind that is efficient headed by Director Arun Mehra. This company was pioneered in the year 2004 and has successfully completed its 9 years of service in the real estate world. With great strength, the company has expanded its dimension and has now become the owner of huge net worth.
Announcement Day:
This wonderful project was hoped to be live by 2014 but due to some issues was delayed for permission from Dubai Municipal Corporation. The construction design was ready by the mid of 2014. And the work was got initiated with the end of 2014 and hoped to get completed by the end of 2016 and will open with the first month of 2017. This shall become most frequently visited attraction within 2020.
Address:
This themed project is under construction in the very famous destination of Dubai that is Falcon City of wonders of Dubai in United Arab Emirates. The falcon city is the multipurpose project that is displays several marvel structures which are the copies other wonders of the world such as Great Wall of China, Tower of Pisa, The Pyramids, Hanging Garden of Babylon, etc. falcon city is the project of US$ 36.6 billion which is stretched in the location known as Dubailand of Dubai, UAE.
Dubai Taj Mahal
Falcon city of wonders
Area: Dubailand,
City: Dubai,
Country: UAE