We sanitize our vehicles and Desert camp after every single use as per the guidelines of UAE government. 
Dune Bashing is a popular sport in Dubai. Irrespective of Dubai's momentous development in the recent past, the city is still founded on desert land. Millions of tourists flock to Dubai every year and while they tour the magnitude of the city and all it has to offer, in terms of luxury and opulence – they also explore the city's desert regions. Desert safaris and desert adventure activities are just as popular Dubai tourist staples. Dune bashing is one of them.
Dune bashing is a kind of off-roading that is done on sand dunes. Big 4X4 vehicles are used for this purpose. The challenge is to drive the vehicle at different speeds over sand dunes of various lengths and height. You need to be able to drive and control the car in such a way that you maintain the vehicle's balance while traveling up and down the sand dunes. Dune bashing is an extremely thrilling adventure sport that requires the participant to exercise the utmost safety and precaution. Only licence safari Drivers can drive safari vehicle. The risk of injury is significant in case of any accident. The SUVs used for this activity come fitted with all sorts of safety gear like roll cages and the like. The tire pressure is also reduced to a minimum so that the vehicle is allowed maximum traction against the moving sand.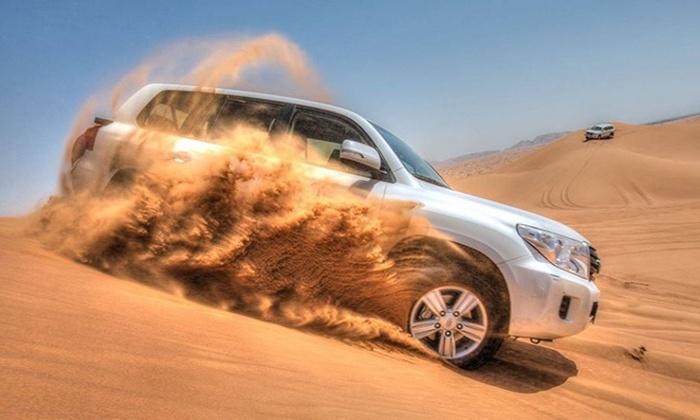 Let's learn the answers to some FAQs commonly associated with this sport below –
Can I Drive a Dune Buggy Without a Driver's License?
No, only certified drivers are allowed behind the wheels of a dune buggy. If you do not have a driving license yourself, you will be made to sit at the passenger seat as you witness the driver doing most of the heavy lifting. You will, however, be subject to the same adrenaline as you skid, slide and slip all across your seat as the driver controls the vehicle across Dubai's glorious sand dunes. Dune bashing is usually done in group basis to ensure maximum safety for the participants.
How Long Does a Typical Dune Bashing Experience Last?
Participants are timed for 10-20 minutes as they cruise over Dubai's desert dunes in their Land Cruiser.
What should I wear for dune bashing in Dubai?
Anything comfortable is recommended for dune bashing drive. Sports shoes are must during any desert visit. During winter season jackets are necessary, as temperature is low in desert areas.
How much does dune bashing cost per person?
Cost of Dune Safari depends on which package you choose. There are standard to premium deals available for desert safari in Dubai. Price range from 100 aed to 1000 aed per person.
What Does a Typical Dune Bashing Experience Look Like?
Dune bashing in 4 wheel drive experiences are usually offered as part of desert safari packages by Dubai tour operators. So, if you book one of these, you can expect the following inclusions –
Being picked up by your tour operator from your hotel and driven to a camp in the desert. Preparation and performing of the dune bashing event. Return to camp where you are treated to sumptuous Middle Eastern cuisine, enjoy traditional entertainment shows and then drop back to the hotel. Sometimes travel operators also offer extras such as camel rides and shisha.
Conclusion
Once, a common sport among UAE locals, dune drive is now famous as a tourist attraction worldwide. You can not self drive vehicle for dune experience when you are here in Dubai. There are many other ways to experience the thrill of the desert and one of the most popular way is Evening Desert Safari. Professional Tour guide balance your SUV vehicle over the shifting sand dunes and speed through the endless desert for a half-hour joyride. Every safety measure is followed, and you can rest assured no harm will come to you if follow all rules and regulations. So, what are you waiting for? Plan your dune bashing ride in Dubai now!