If you are planning to visit the amazing city of Dubai in the United Arab Emirates, a stay of about a week or so is enough to cram in the best tourist attractions. This illustrious middle eastern jewel is rife with luxury, style and architecture. It boasts the tallest building in the world – the fantastic Burj Khalifa. Tourism in Dubai is on its way up and is only expected to grow once the pandemic tides over. From Dubai day trips out of the city to loads of things to do within the city, you will find an itinerary packed with amazing and exciting stuff to pass the time. The 5 best day trips (and the most talked about) are the following. They will make time fly as you have fun and shop at the same time.
Abu Dhabi City Tour
Getting acquainted with the United Arab Emirates' ultra-modern and largest city, Abu Dhabi should be on the top of your list of things to do when you're in Dubai. The largest city in the UAE, it has the distinction of being its capital too. An Abu Dhabi city tour from Dubai requires about 8 – 9 hours. You can take a long stroll around the white marble masterpiece that is the Sheikh Zayed Grand Mosque. Constructed between 1996 and 2007, this complex is vast with its majestic minarets and beautiful landscaping. The main axis of this monument is rotated about 11 degrees in the southern direction of the true west, making it aligned with the Kaaba in Mecca. The mosque is illuminated in blue light at night, so making this the last stop is a good idea.
Hiring a private taxi is a perfect way to see Abu Dhabi, but several hotels in Dubai offer coach tour packages too. The Ferrari World is another great attraction to take in. This is a theme park for racing enthusiasts and has the world's fastest roller coaster too. The theme park has opportunities for you to try your hand at mock racing, dining at authentic Italian restaurants and great shopping. Seeing the Sheikh's Palace at Abu Dhabi is something you cannot miss, and this should be next on your list. Valued at 3 billion USD, this is luxury defined. Besides these three must-see places, you should check out the Heritage Village, Abu Dhabi Beach, the Iranian Market, Yas Island and more.
One-day Trip to Ras Al Khaimah
Composed of seven emirates, the United Arab Emirates' popular cities are Dubai and Abu Dhabi. Nonetheless, there are hidden gems like Ras Al Khaimah, one of the strongest tourist site contenders today, that you have to visit. On the northernmost tip of the UAE, this is a spot of natural wonder. You'll be met with gorgeous coastlines, heavenly beaches, fabulous desert planes and archeological formations dating back 7000 years (the Bronze Age).
Visiting from November to February is a comfortable time, as summer can be excruciatingly hot. In March, there is a Ras Al Khaimah Fine Art Festival, where you can witness superb artwork and films. In December, the Awafi Festival celebrates the culture of the place. The highest mountain, the Jebel Jais, in the UAE exists here, and you can try your hand at zip-lining. Mountain biking is also famous. Trips must be planned and booked well in advance as this place is gradually becoming well known in every tourist's schedule.
Musandam Trip from Dubai

Where mountains touch the ocean, is Musandam. This place resembles a paradise on earth. The region of Musandam belongs to Oman. Segregated from the mainland by the east coast of the UAE, it lies near Dubai. Among the most renowned Dubai day trips, Musandam features picturesque fjords, sparkling aquatic views and the overwhelming Hajar Mountains. Residents treat this as a short getaway. The coastal villages, historical forts and quaint street markets are a feast for hungry tourists. You can take a traditional Dhow cruise and indulge in the best snorkeling, canoeing and swimming. The waters of Musandam offer an abundant marine ecosystem. Dhow cruises include meal packages and you can get a taste of genuine Omani hospitality here. Musandam is a couple of hours from Dubai by car/coach.
 Hatta Mountain Trip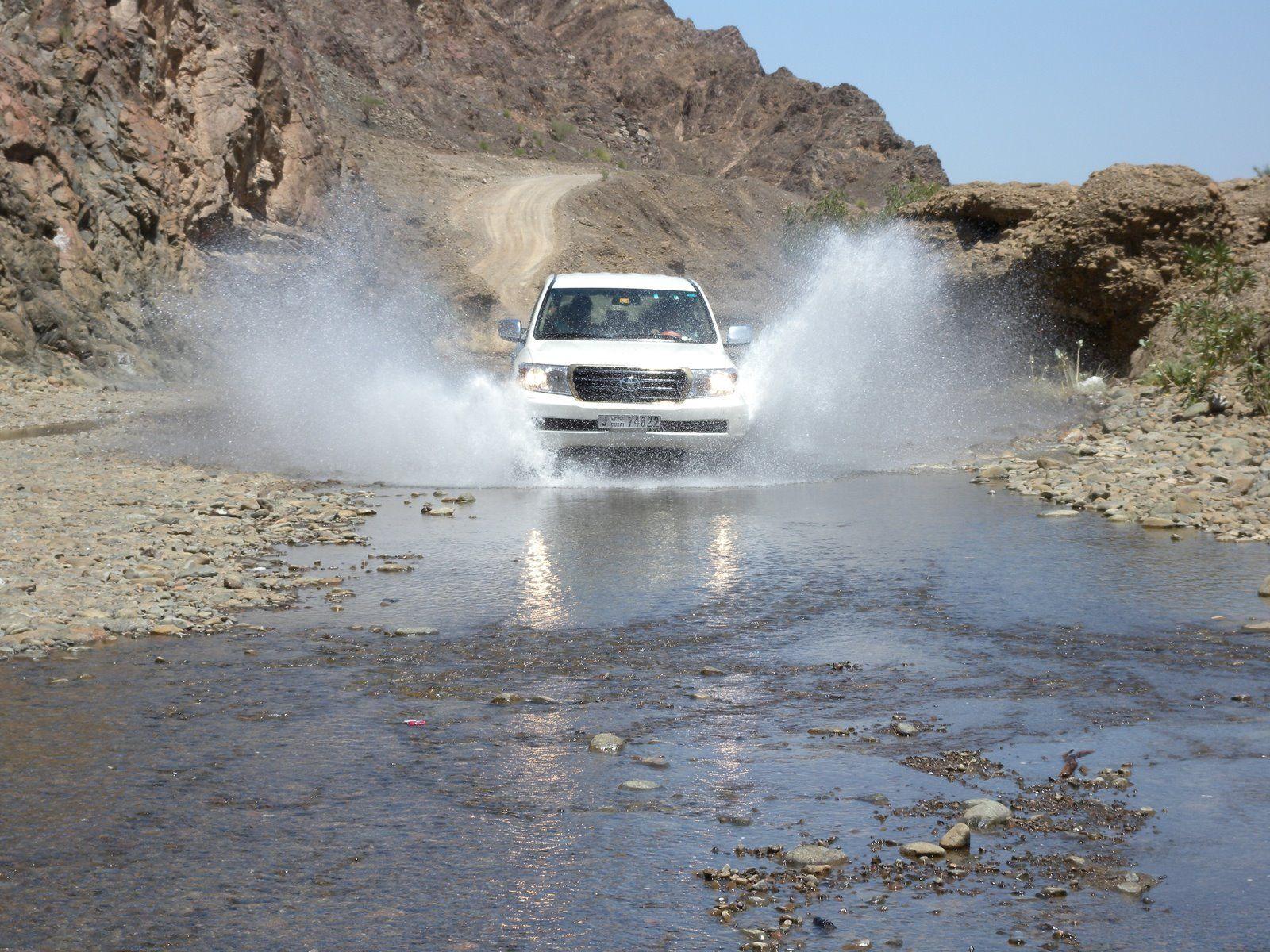 From a mountain bike ride on challenging terrain to handling teal waters in kayaks, Dubai's mountain village of Hatta is the perfect adventure lover's hot spot. The area is filled with hills, farmlands and wadis to explore. Multiple trails ranging from beginner level to advanced exist for mountain bikers. The Hatta Mountain Bike Trail Center offers up many paths you can traverse across an area of 52 km. Residents travel here for regular biking visits and bikers around the world visit Hatta as it makes available some rigorous trails. You can venture out on your own, or tackle a trail as part of a hobby group. You will need 2 – 3 hours for a riding session with stops along the way. This way, you can enjoy the lush scenery.
Dubai Parks and Resorts Full Day Trip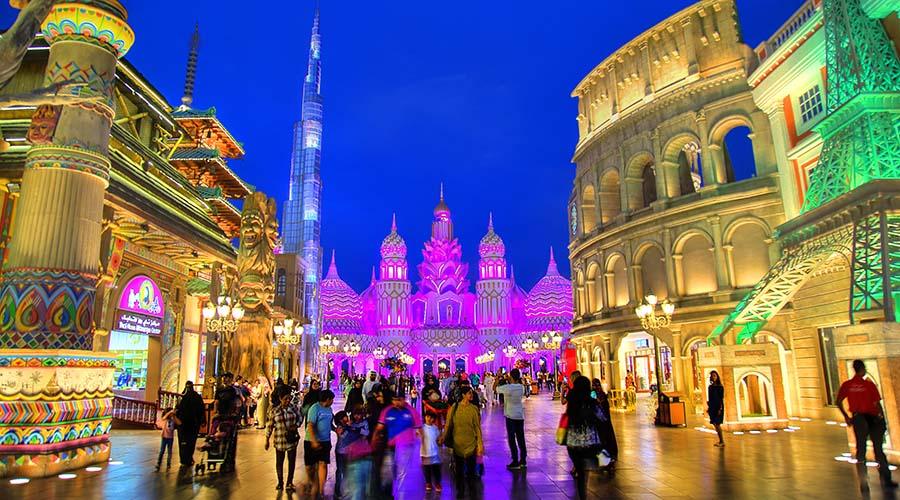 Enjoy unlimited fun when you have a whole day at the Dubai Parks and Resorts. Dubai is known as an "entertainment city". With Dubai Parks and Resorts located at Sheikh Zayed Road, you get to visit a theme resort among the largest in the world. Built in 2016, the resorts have more than 100 rides spread across 25,000,000 square km. With the parks, the Lapita Resort is a grand residence to enjoy hospitality to the fullest.
The Bollywood Park and the Motiongate are theme parks on land, and Legoland is a land and water park. The Motiongate Theme Park houses three Hollywood studio themes – Dreamworks, Columbia and Lionsgate. A whole theme park is dedicated to the much-loved Bollywood, the film fraternity of India. The Bollywood Theme Park has all the Bollywood heroes from films like Krrish and Ra One. Kids will love the Legoland Theme Park more than an Abu Dhabi city tour, especially the water park that this area accommodates. Parks are large and the attractions are many, so you may need more than 24 hours to do justice to all three. Parks contain themed dining and shopping experiences like never before.